The Digitunity Media Release Form is a document granting Digitunity permission to use photos, videos, and voice recordings of the person signing the release in public and social media. This release also includes a section pertaining to photos, videos, and voice recordings of minors. The release is designed to be flexible. It provides permission for us to use your photos, videos, and voice recordings as an adult while excluding your minor children, if desired.
Please note the signed Media Release provides legal approval for the use of your images, photographic likenesses, video, and voice recordings in publications, media releases by Digitunity and waives any right to compensation related to the use of these materials. To review the PDF document, please click on the image below, or here, which will immediate download the document to your computer system for review, printing, and returning to Digitunity.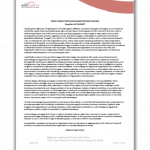 Please print the document, review carefully, and email your signed copy to info@digitunity.org, or mail to Digitunity, 120 N. South Rd. Unit C #284, North Conway, NH 03860-5267.
If you have any general questions, please don't hesitate to reach out to our Marketing Department. For legal advice on the contents of this media release document, please consult your attorney.